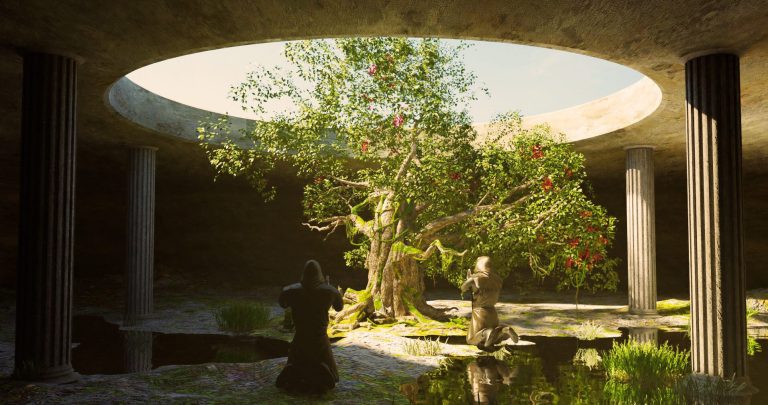 Eve's Scrolls VR is an adventure game where you navigate/explore ancient cultural and natural heritage sites in and around the city of Jeddah and the Red Sea.
You must solve series of puzzles and riddles! Explore numerous rooms in underwater and dryland locations in search of historical treasures, relics and artifacts. The most precious NFT are the scrolls of EVE which are hidden somewhere in the archaelogical tomb site in Jeddah which are a map the the holy tree which still exists.
Forget about Old casual escape room or point and click games… We give you a VR experience where you are actually ONSITE, IN THE ROOM! Begin your Adventure today and find the reasons why the last resting place of the mother of all humans is n Jeddah, Saudi Arabia.
In full immersive physical VR you will figure out how to navigate each unique environment by Walking, Crouching, Jumping, Climbing, Dodging, Sliding, Snorkeling, Swimming, Rope Zip lining, and using different weapons such as harpoon, bow, and whip to hang over ledges all in an effort to solve puzzles, unlock ancient mechanisms, avoid dangerous traps, and navigate secret passages to acquire hidden but valuable artifacts in Jeddah, Saudi Arabia
FEATURES
Explore large open underwater and dryland sites in Jeddah in VR with a twist of fantasy 
Stunning High Detailed Graphics
Fully Animated True First Person Characters
Puzzles and Items Change Every Time you Play
Over 20 Levels in 10+ locations in and around the city of Jeddah to explore
Over 20 Hours of Gameplay
Challenging Puzzles
Thrilling Music and Sound Effects
Player Interactive Gaming Enviroment
Intelligent Inventory System
Unique Scoring system with Global Scoreboards
Variety of ancient and modern traps
Historical Background Stories for each unique area
Collecting unique artefacts, NFTs that could be traded in the real market 
VOTE below if you want this game to be developed soon!